Chatbots and conversational marketing can help you grow your business. User engagement and conversion rates have both been demonstrated to rise when using chatbots.
With ConversioBot, getting started is simple. Simply add one line of code to your website, and your bot will begin communicating with your visitors. ConversioBot can also be used on your FacebookTM Business page with just a few clicks. To provide the greatest Chatbot solutions, we've partnered with Coversiobot. You can do it yourself or hire us to do it for you.
Get More Leads, Bookings & Sales
Users that interact with a bot are more likely to convert.
Outperform Any Form
Get key information like name, email, and telephone through our chatbot examples
Respond Instantly To Your Visitors 24/7
Get leads, bookings and sales even when your sales staff are asleep. No human involvement is required.
Increase ROI By Up To 800%
Case studies show that a bot can significantly increase ROI. In some cases up to 800%.
Chatbots for all types of Industries
Auto Roadside Assistance
Beauty Salon
Bookkeeping & Tax Services
Business Funding
Car Dealership
Car Insurance
Cart Discount
Chatbot Agency
Chatbot For Real Estate
Chiropractor
Cleaning Services
Conference Registration
Contact Us
COVID Cleaning
Cooking Classes
Customer Service
Dentist Appointment
Digital Marketing Quiz
Discount Coupon 1
Discount Coupon 2
Doctor Appointment
Dog Trainer
Double Glazing
Dry Cleaning
Electrician
Face Recognition & Video Security
Family Lawyer
Feedback Collection
Fitness Coach
Florist
Gardener
Get Leads 1
Get Social Shares 1
Graphic Design
Green Energy
Guitar Lessons
Gym Membership
Hair Removal
Hair Salon
Handy Man
Health Insurance
Home Insurance
Hotel Bookings
Human Resources
IT Incident Report
Insurance Broker
Kitchen Design
Language Lessons
Lawn Maintenance
Learning Languages
Leaving Survey
Life Insurance
Make Money
Media Agency
Mortgage Broker
Music Lessons
Music Lessons
New Home Builds
Occupational Therapy Assistant
Online Review Agency
Open House Feedback
PPC Marketing
Painter
Personal Injury Lawyer
Personal Trainer
Pet Grooming
Photographer
Piano Lessons
Plumber
Pool Maintenance
Property Rentals
Real Estate & Rentals
Real Estate Bot
Real Estate Chatbot
Real Estate Investors
Real Estate Lawyers
Recruitment Consultant
Relationship
Removals
Restaurant
Restaurant Reviews
Roofing Services
Self Help
Skip Hire
Social SEO Agency
Solar Energy Survey
TV Channel Subscriber
Travel Assistant Chatbot
Travel Consultant
Vape Shop
Vehicle Hire
Veterinarian
Video Editing
Video Marketing
Video Subscribers
Web Design Agency
Web Hosting
Webinar Registration
Wedding Invite Bot
Wedding Planner
Weight Loss
How Does ConversioBot Work?
When your visitor lands on your website or Facebook™ page, the chatbot interacts with them.
Through conversational marketing it converts them into a qualified lead or a customer.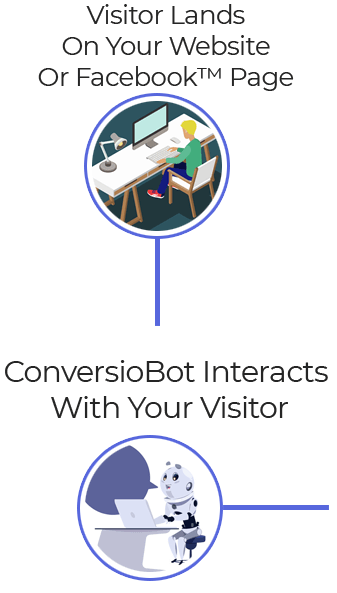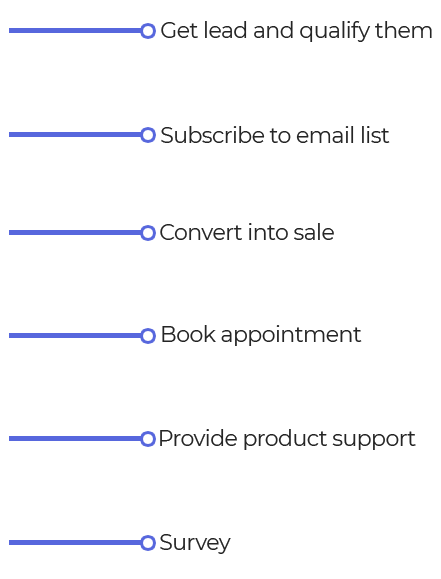 ---
Get Started in Minutes With These 3 Easy Steps, Or Hire Us To Do It For You!
Step #1
Take advantage of one of our chatbot templates (easy to customize).
Alternatively, you can use our simple drag-and-drop builder to make your own chatbot.